BtoB Clip is durable and can significantly reduce the total cost of jig maintenance by using a high quality probe without using the connector on the other side.
If you use Other side connector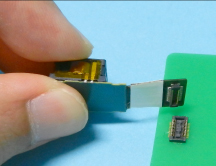 Poor workability because visibility is bad
There can damage the inspection side
of the connector when removing
the inspection after the connector.
Low durability
When we use our product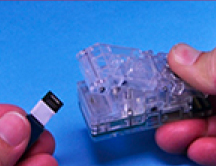 Improved visibility is good workability
Just easily bite as a clothespin!
Since the lock mechanism
is not there is no worry damage to
the inspection side of the connector.
High durability (200,000 tests clear)
Recommended for use in the following cases
Surface stiffening plate (top contact)
the inspection item and the connector are mounted on the same plane (requires a connection to an extremely low-profiled connector)
Back stiffening plate (bottom contact)
The inspection item and the connector are mounted on opposite planes (the inspection item and the connector are located in close proximity)
Features
Connector mounting displacement absorption structure
Due to a structure that guides the connector external form as it is inserted, inspections are unaffected by mounting displacement between the connector and board (FPC).
Wide space for inspection item placement
The wide area allocated for mounting of the board (FPC) makes placing the inspection item easy.
Wide opening area
The opening part is expanded to improve working efficiency.
Probe protection structure
Surface stiffening plate: The guide shape is configured to prevent incorrect insertion of the inspection item.
Back stiffening plate
Since the guide tends to float, a structure has been adopted that prevents a probe from directly touching the connector when the inspection item is placed into position.
Floating lock mechanism
The guide part (floating guide) is configured so that it does not descend when the inspection item is placed into position. (Applies only at full-open time.)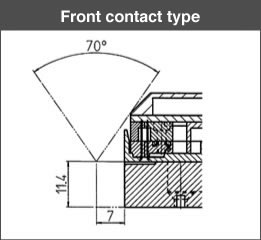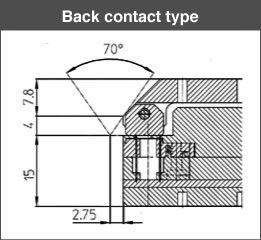 Superior visibility
Height has been minimized, and the top front-end part is cut to improve visibility of the inspection item. By accounting for inspections by camera modules, we have devised a way to avoid affecting the angle of view.
*Angles of view up to 70° are supported even when the center of lens is close to a position 2.75 mm from the BtoB clip end face.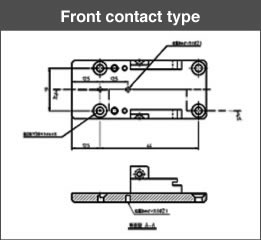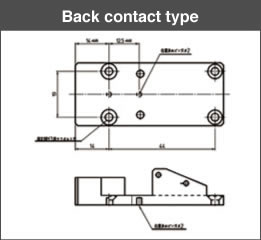 Probes can be swapped while leaving the base intact
Since the structure accommodates probes, when the base part is attached to an inspection device, the probe can be exchanged. This eliminates position adjustments at each probe replacement.
Positioning pins installable
A 2-mm diameter hole is provided for positioning pins opened to allow precise placement at a desired position.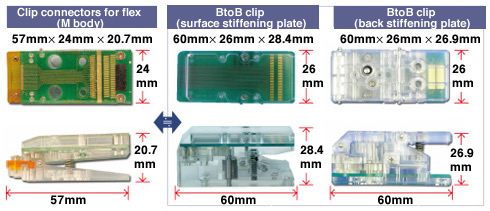 Probe contact position
Depending on the solidity of the solder applied, a probe with mild spring pressure is moved against the top of the connector terminal, rather than an instable connector lead.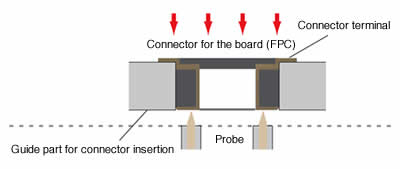 Wiring type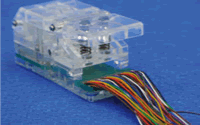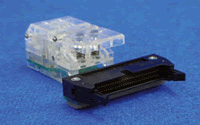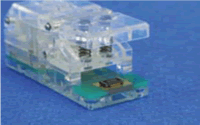 Relationship between Pin Numbers and Fitted FRC connectors
| Target pin number | Connectors used |
| --- | --- |
| 10 to 32 pins | HIF6-32PA-1.27DS |
| 34 to 40 pins | HIF6-40PA-1.27DS |
| 42 to 60 pins | HIF6-60PA-1.27DS |
General Specification
| | |
| --- | --- |
| Maximum rated power | MAX.10W |
| Maximum rated current | 0.5A |
| Maximum rated voltage | 50V(AC/DC) |
| Withstand voltage | AC100V/1min |
| Insulation resistance | MIN100MΩ |
| Contact resistance | MAX.500mΩ(contact part) |
| Working temperature range | 0~85℃ |
Product Lineup